Great Dane Pets: Majestic, Gentle Giants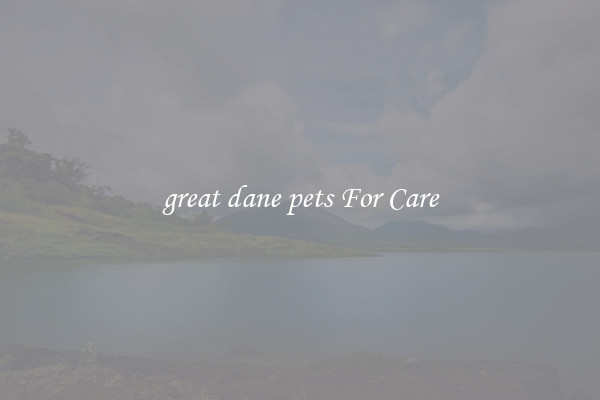 The Great Dane, often referred to as the "gentle giant," is a breed of dog that captivates the hearts of dog lovers around the world. This majestic and regal breed is known for its towering height, elegant appearance, and calm and friendly demeanor. Great Danes make excellent family pets due to their gentle nature and loyal character.
One of the most striking features of Great Danes is their impressive size. They are one of the tallest dog breeds, often reaching heights of up to 32 inches at the shoulder. Despite their size, they are surprisingly gentle and patient, making them ideal companions for families with small children.
Great Danes have a calm and friendly disposition, which makes them great for households with other pets as well. They are known for their excellent temperament and are often described as kind, gentle, and patient. This breed loves being around people and enjoys being part of the family activities. They are highly protective of their loved ones and can serve as great watchdogs.
Although Great Danes have an intimidating appearance, they are not aggressive by nature. They are generally well-mannered and eager to please, making them relatively easy to train. However, early socialization and consistent obedience training are essential to ensure they grow up to be well-behaved pets. Great Danes are highly intelligent and respond well to positive reinforcement methods, such as rewards and praise.
Despite their massive size, Great Danes are surprisingly low-maintenance dogs. They have a short coat that requires minimal grooming, and they are known for being relatively clean and odorless. Regular exercise, such as daily walks, is essential to keep them fit and happy. However, it is important to avoid excessive exercise at a younger age to protect their growing bones and joints.
Like all dog breeds, Great Danes have specific health concerns that potential owners should be aware of, such as bloat and hip dysplasia. Regular veterinary check-ups, a balanced diet, and an appropriate exercise routine can help prevent these issues. Additionally, responsible breeding practices can also minimize the risk of hereditary health problems.
In conclusion, Great Danes are exceptional pets known for their gentle and friendly nature. Their majestic appearance and calm temperament make them ideal family pets, especially for households with children and other pets. With proper training, socialization, and care, Great Danes can bring endless joy and companionship to their owners' lives. If you are considering adding a loyal and affectionate companion to your family, a Great Dane might just be the perfect choice.